Whether you're an outdoorsman or a city-slicker, everyone needs an emergency kit that includes powerful flashlights. The frequent camper and hiker knows this best. If you're without electricity at night, you need a lamp that can work 100% of the time and will be adaptable enough to effectively light up terrain at different distances. But it can be pretty scary if you find yourself in an urban blackout, too. If you live in a city, you probably take light for granted and will be all the more unprepared when an emergency strikes.
If you've been considering getting a new, top-shelf flashlight for peace of mind, or upgrading your existing kit, there's currently a deal that might be hard to turn down. StackSocial, a trending tech deals site, is currently offering the UltraBright 500-Lumen Tactical Military Flashlight as a 2-Pack at a crazy 80% discount.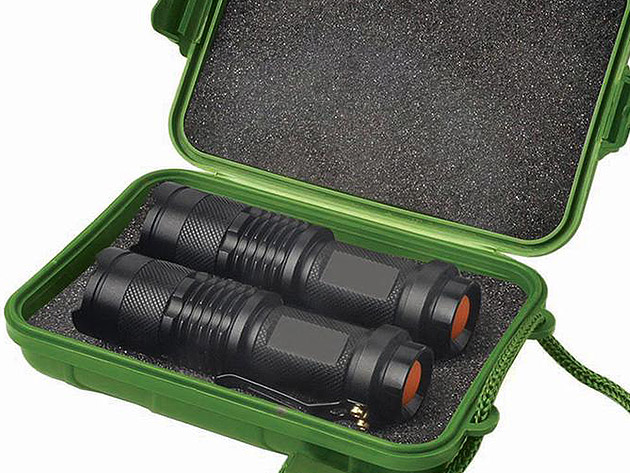 These aren't your average flashlights. The UltraBrights give off 500 lumens of pure power, many times that of your average flashlight. Coupled with the light's zoom feature, this enables you to flood the entire campsite in front of you, or look for a lost friend in the dark up to a mile away! They're also made of lightweight, aircraft aluminum alloy, making for an incredibly strong but light shell. The lights come with three brightness presets depending on your needs: lower bright, bright, and SOS, as well as a broad working voltage to maximize battery life (1 AA is all that's needed).
If you're looking for the best deal on a professional-level light, or want to sleep easier at night knowing your emergency-preparedness is in check, you can't afford to sleep on this deal. StackSocial is offering the 2-pack set for a limited time at a staggering price of $20—that's 80% off from $100. They even throw in a storage case!